A vegetable is a plant of which at least root, stem, leaf, seed, flower, or fruit is used for human consumption. Vegetables are very important to human health because it contains important nutrients such as fiber folate, vitamins (A, B, C), and many others. Vegetables can be eaten raw, cooked, or frozen.
In this lesson, we will look at the list of names of vegetables with their pictures. If you want to enhance your vocabulary this lesson is perfect for you.
You can download all names with pictures in pdf.
Download in Pdf
List of Vegetables with Pictures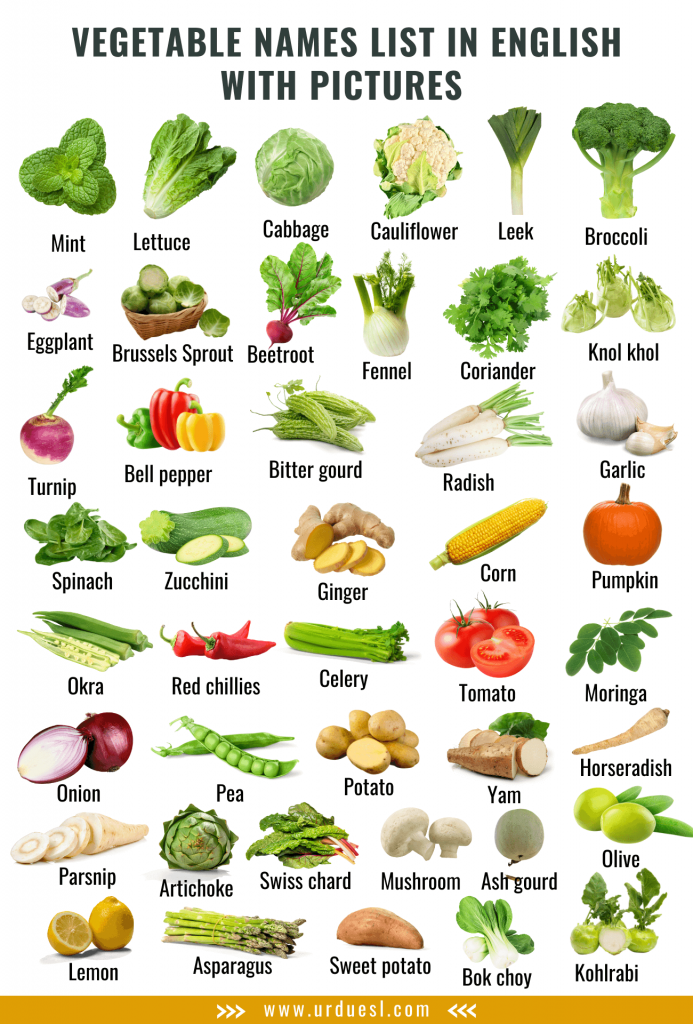 List of Vegetables
| Sr No | Name |
| --- | --- |
| 1 | Mint |
| 2 | Lettuce |
| 3 | Cabbage |
| 4 | Cauliflower |
| 5 | Leek |
| 6 | Broccoli |
| 7 | Eggplant |
| 8 | Beetroot |
| 9 | Fennel |
| 10 | Coriander |
| 11 | Knol khol |
| 12 | Turnip |
| 13 | Bell pepper |
| 14 | Bitter gourd |
| 15 | Radish |
| 16 | Garlic |
| 17 | Spinach |
| 18 | Zucchini |
| 19 | Ginger |
| 20 | Corn |
| 21 | Pumpkin |
| 22 | Okra |
| 23 | RedChillies |
| 24 | Celery |
| 25 | Tomato |
| 26 | Moringa |
| 27 | Onion |
| 28 | Pea |
| 29 | Potato |
| 30 | Yam |
| 31 | Horseradish |
| 32 | Parsnip |
| 33 | Artichoke |
| 34 | Swiss chard |
| 35 | Mushroom |
| 36 | Ash gourd |
| 37 | Olive |
| 38 | Lemon |
| 39 | Asparagus |
| 40 | Sweet potato |
| 41 | Bok choy |
| 42 | Kohlrabi |
| 43 | Carrot |
| 44 | Avocado |
| 45 | Spring onion |
| 46 | Green bean |
| 47 | Chayote |
| 48 | Endive |
| 49 | Collard greens |
| 50 | Red cabbage |
| 51 | Green chilies |
List of Vegetables A-Z