Welcome to our blog post about things that start with w for preschool! In this post, we'll teach you about the letter w. We've put together a list of easy words that start with the letter "w" for kids in kindergarten and preschool. From Wheels to Worms, this list has everything kids will love! These words will help your child learn new vocabulary and improve their spelling skills.
Plus, we've included a worksheet of things that begin with w for preschoolers that you can do with your child to help them learn and enjoy these words! So scroll down and start learning about these exciting and fun topics for your little one!
Table of Contents
Things that Start with W | Image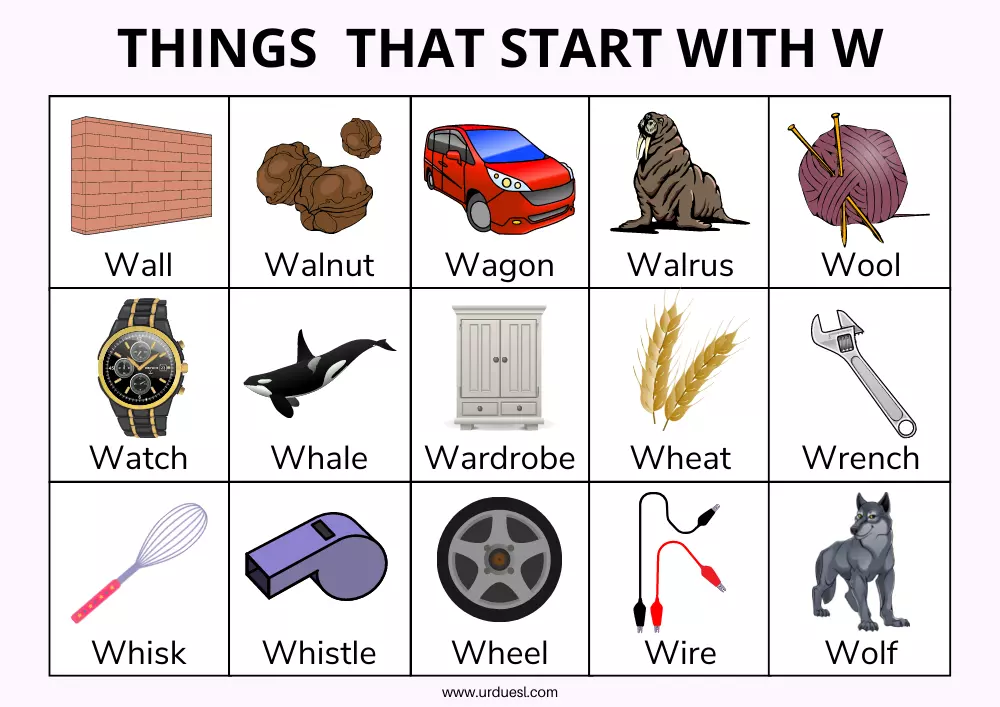 Things that Start with the Letter "W" for Preschoolers
Wagon
Wall
Wallet
Wallpaper
Walnut
Walrus
Wand
Wardrobe
Wash basin
Washing machine
Washington
Washroom
Watch
Watchman
Water
Waterbottle
Water gun
Watercolor
Watermelon
Wax
Web
Weeds
Well
Whale
Wheat
Wheel
Wheelbarrow
Wheelchair
Whisk
Whistle
Wifi
Wig
Wind
Windmill
Window
Wine
Wings
Winter
Wire
Wisconsin
Wizard
Wok
Wolf
Wombat
Wood
Woodpecker
Wool
Worker
World
Worm
Wrench
Wrist
Wristband
Wyoming
Words that Start with W for Preschool | Image
W Words for Preschool
Waist
Wait
Wake
Walk
Wander
Want
War
Warm
Warn
Was
Wash
Wasp
Waste
Waves
Way
We
Weak
Wealth
Wear
Weather
Wedding
Wednesday
Wee
Week
Weight
Weird
Welcome
Well
Went
Were
West
Wet
What
When
When
Where
Where
Which
Whisper
White
Who
Whole
Whoop
Why
Why
Widow
Width
Wife
Wild
Will
Win
Wink
Winner
Winter
Wipe
Wisdom
Wise
Wish
Wit
Witch
With
Withdraw
Woe
Woke
Woman
Women
Won
Wonder
Wonderful
Word
Work
Worry
Worship
Worst
Worthy
Would
Wound
Wow
Wrap
Wreck
Wrinkle
Write
Wrong
Easy Words that Begin with W for Kids | Image
These are some of the most straightforward words for kids window, wizard, work well, watermelon, wasp, water, worm wand, watch, wall, witch walrus, etc.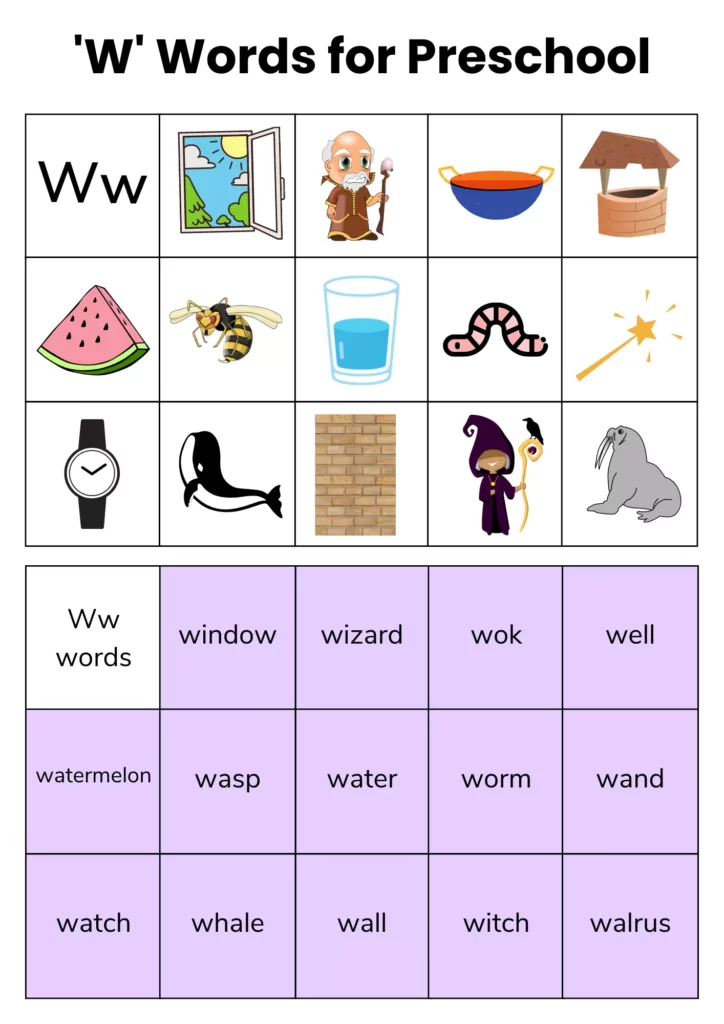 Show and Tell Letter W
Objects that start with the letter W for Show and tell ideas include watch, whistle, wheel, whisk, wolf, wrench, whale, worm, etc.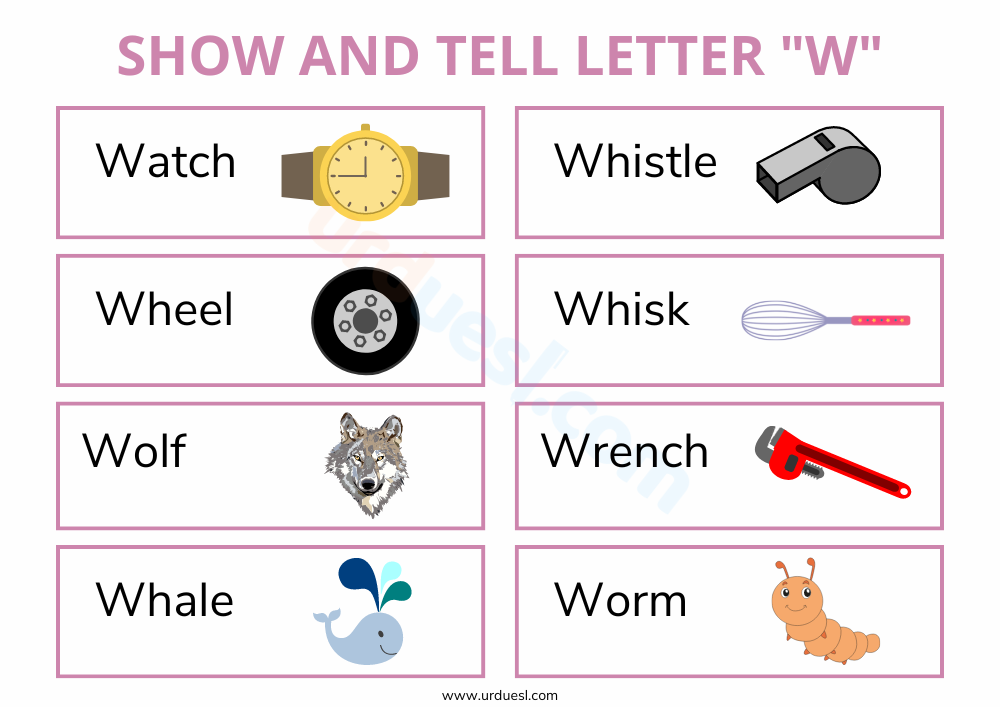 Worksheet for Letter "W' Words
Here's an easy worksheet to review the letter W words. You can download it in Pdf below the picture.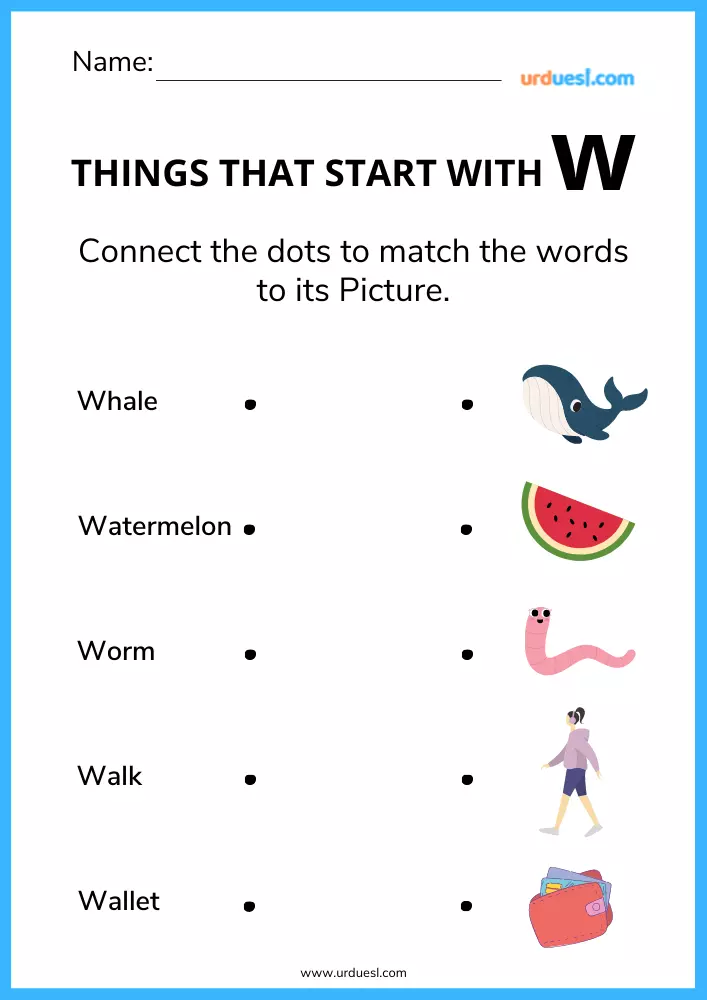 Word For Parents
These are the most common and basic words that start with w. However, if you notice your child struggling to understand what these words mean, try to go through the list again differently. For example, change the order of the words or ask them about what they see after each word. This will help them understand each word better and increase their vocabulary!
The best way to ensure these words become a part of their new vocabulary is by teaching them one at a time. Use an action game or play a game where they have to connect the items correctly.
We hope this blog has answered all your questions about what to teach kids about the letter "W" for preschool! Well, if you are looking for more, you may want to check out A to Z household items.