A home is a place where we feel safe and at peace. Our home is where we live, sleep, work and play. It is where we store food and other stuff; it's the place that makes us feel safe from danger or uncomfortable.
Similarly, animals need a home where they can feel safe and secure from outside dangers, where they can lay their eggs, raise their young, and sleep at night for protection from the cold and hot, and harsh weather conditions. Some animals will even build homes to hide from predators.
Here we will look at pictures of homes of different animals, birds, and insects and what are they called in English.
Table of Contents
Homes of Animals List
Here is a list of some common animals with the name of their homes:
Ant lives on a hill
Bear lives in a den
Bee lives in a hive
Bird lives in a nest
Cattle live in a barn
Chicken lives in a coop
Dog lives in a kennel
Horse lives in a stable
Lion lives in a den
Spider lives in a web
Tiger lives in a lair
Rabbit lives in a burrow
Homes of animals with Pictures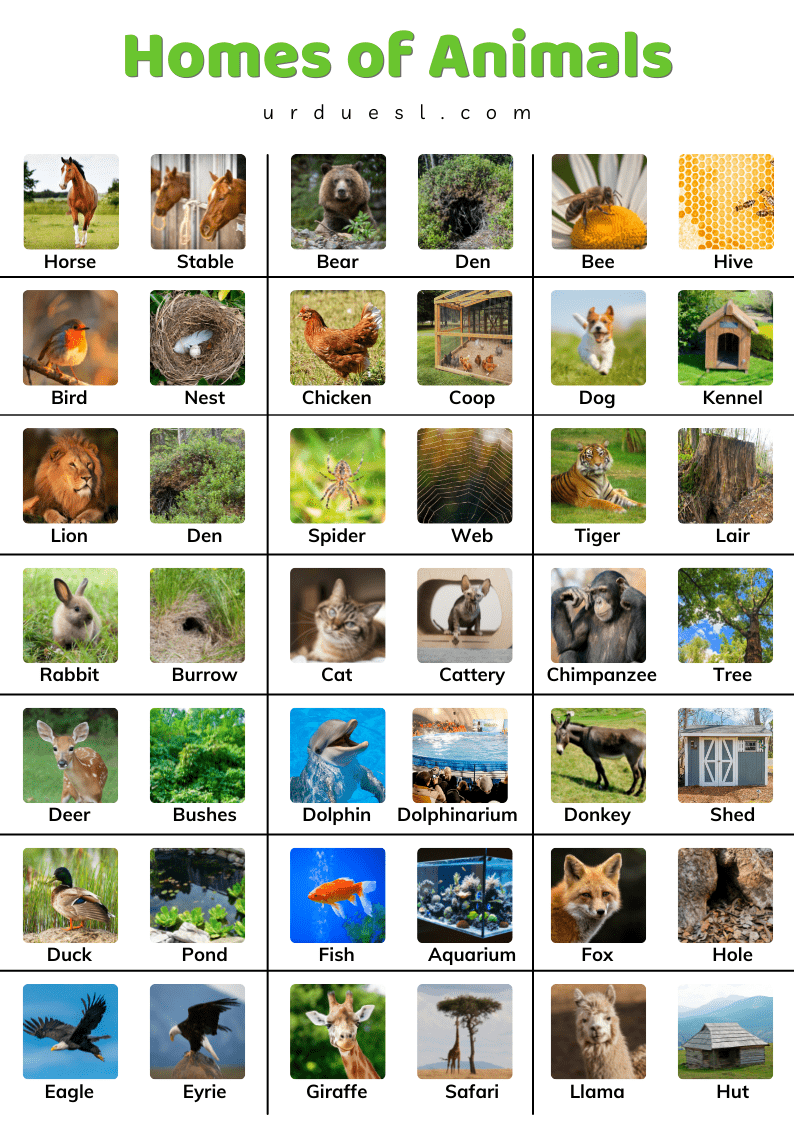 List of 100 Animal Home Names
| No | Animal | Home |
| --- | --- | --- |
| 1 | Alligator | nest |
| 2 | Aardvark | burrow, den |
| 3 | Ant | formicary, hive, nest |
| 4 | Ape | logging, nest |
| 5 | Armadillo | burrow |
| 6 | Badger | hole, sett |
| 7 | Bat | roost, cave |
| 8 | Bear | den, cave |
| 9 | Beaver | beavery, lodge, burrow |
| 10 | Bee | aviary, beehive, hive |
| 11 | Beetle | land(tunnel) |
| 12 | Bird | aviary, nest |
| 13 | Bittern | nest |
| 14 | Buffalo | Barn, Byre, Pasture, Stable |
| 15 | Camel | desert |
| 16 | Cat | Cattery, Lair, Den |
| 17 | Cattle | Barn, Byre, Pasture, Stable |
| 18 | Cheetah | safari, savanna |
| 19 | Chicken | coop |
| 20 | Chimpanzee | tree |
| 21 | Cockroach | homes, sewers, privies |
| 22 | Coyote | lair |
| 23 | Crane | nest |
| 24 | Crocodile | nest |
| 25 | Crow | nest |
| 26 | Deer | grass, trees, and bushes |
| 27 | Dog | kennel |
| 28 | Dolphin | dolphinarium |
| 29 | Donkey | barn, shed |
| 30 | Dove | columbarium, dovecot |
| 31 | Duck | nest, pond |
| 32 | Eagle | eyrie |
| 33 | Elephant | dip-wad, nest |
| 34 | Ferret | cage |
| 35 | Fish | aquarium, vivary, pond |
| 36 | Fly | cracks, crevasse |
| 37 | Fox | burrow, hole, lair |
| 38 | Frog | froggery, ranarium |
| 39 | gerbil | gerbilarium |
| 40 | Giraffe | safari |
| 41 | Goat | locker, pen |
| 42 | Gorilla | nest |
| 43 | Grasshopper | grassland |
| 44 | Grouse | nest |
| 45 | Guinea Pig | hutch, cage |
| 46 | Hamster | cage |
| 47 | hare | form |
| 48 | Hawk | hawkery, mew |
| 49 | Hippopotamus | river banks |
| 50 | Hornet | hive |
| 51 | Horse | stable, mew, stall |
| 52 | Hyena | den |
| 53 | Kangaroo | hollow tree |
| 54 | Koala | tree |
| 55 | Leopard | safari, savanna |
| 56 | Lion | den |
| 57 | Llama | hut |
| 58 | Mole | Burrow, Fortress, Tunnel |
| 59 | Monkey | tree |
| 60 | Moose | moosey land |
| 61 | Mouse | mouse-hole |
| 62 | Nightingale | nest |
| 63 | Ostrich | veldts |
| 64 | Otter | couch, holt, lodge |
| 65 | Owl | owlery |
| 66 | Panda | bamboo tree |
| 67 | Parrot | cage |
| 68 | Penguin | penguinery |
| 69 | Pig | cote, pen, sty |
| 70 | Pigeon | cote, loft |
| 71 | Polar bear | hole, burrow |
| 72 | Porcupine | burrow, hollow trunk |
| 73 | Porpoise | sea, aquarium |
| 74 | Possum | tree, forest |
| 75 | Rabbit | hutch, burrow, hole |
| 76 | Raccoon | den, burrow |
| 77 | Rat | nest, hole |
| 78 | Raven | ravenry |
| 79 | Rhinoceros | savannah, wallow |
| 80 | Rook | nest |
| 81 | Sea lion | rookery |
| 82 | Shark | sea |
| 83 | Sheep | cot or cote, fold, pen |
| 84 | Snail | snailery |
| 85 | Snake | ophidarium, snakery |
| 86 | Sparrow | nest |
| 87 | Spider | web |
| 88 | Squirrel | dray or drey |
| 89 | Swan | swannery |
| 90 | Termite | termitarium, mound |
| 91 | Tiger | lair |
| 92 | Turtle | sea |
| 93 | Viper | hole, burrow |
| 94 | Wallaby | hollow tree |
| 95 | Whale | whalery |
| 96 | Wolf | lair, den |
| 97 | Wombat | burrow |
| 98 | Woodpecker | nest |
| 99 | Yak | hill, mountain, barn |
| 100 | Zebra | safari, veldts |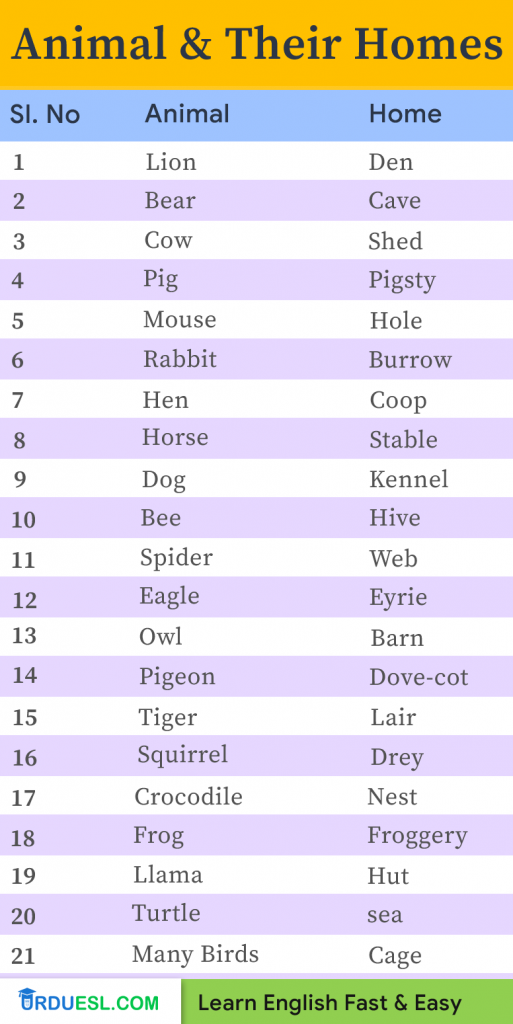 Animal and Their Homes Chart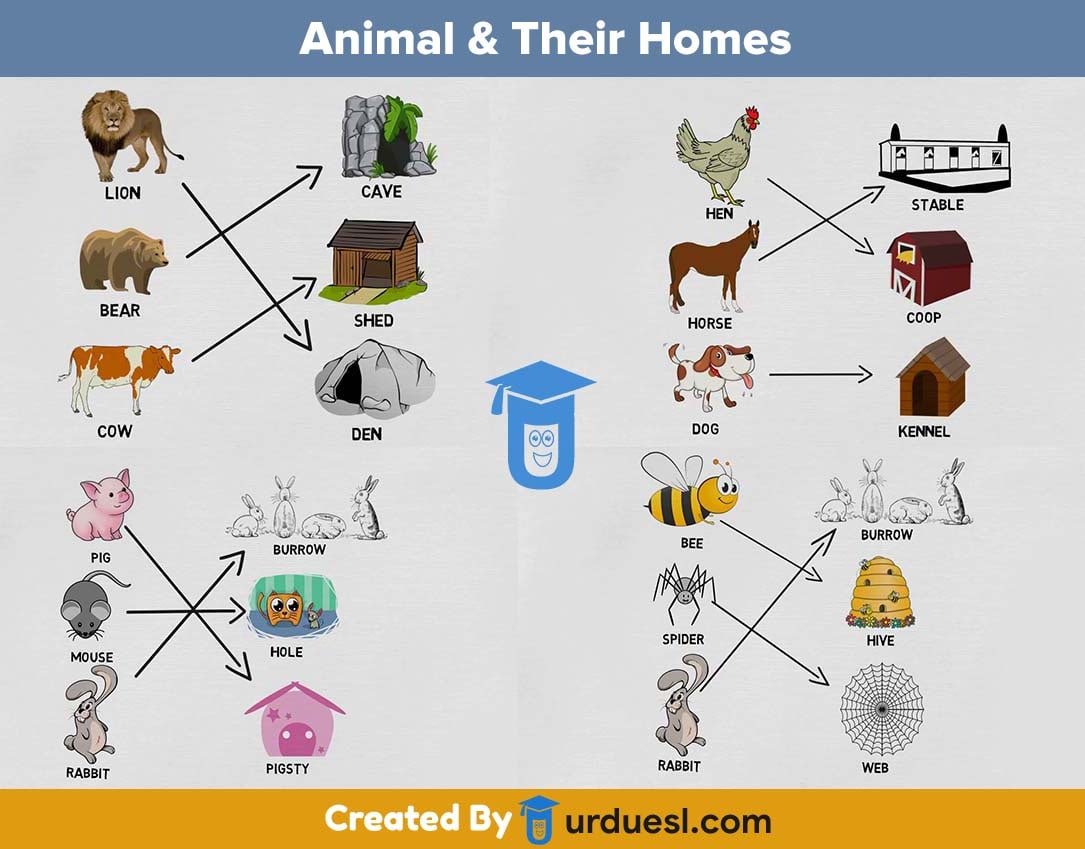 Animal And Their Homes With Pictures
Bear Lives In Cave
Dog Lives In Kennel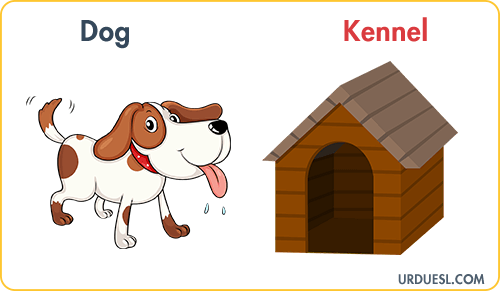 Ant Lives In Ant-Hill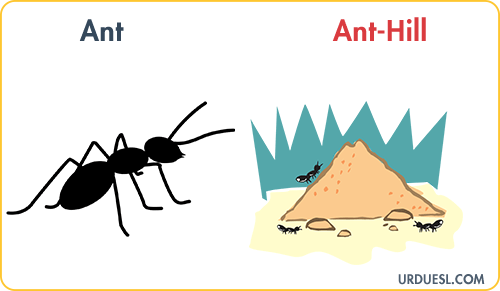 Bee Lives In Hive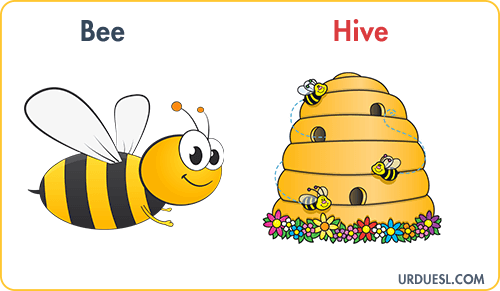 Cow Lives In Shed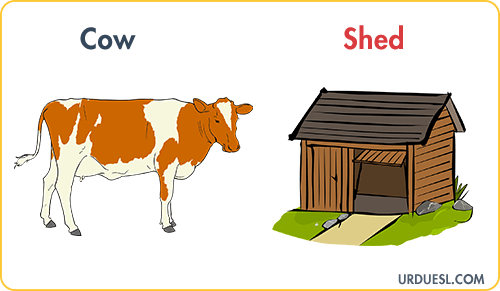 Spider Lives In Web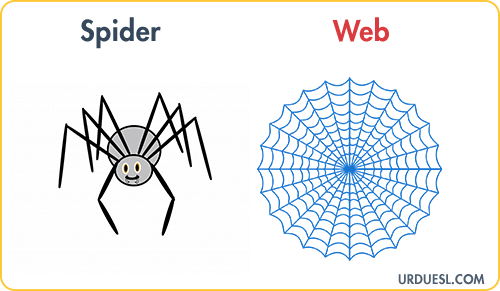 Rabbit Lives In Burrow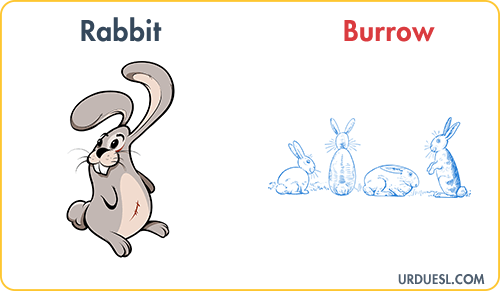 Pig Lives In Pigsty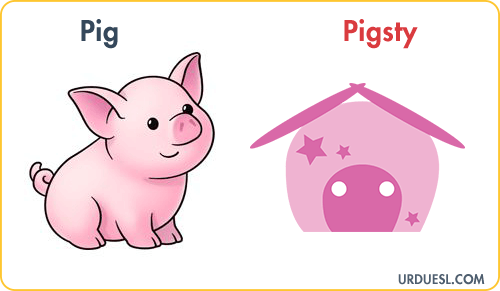 Mouse Lives In Hole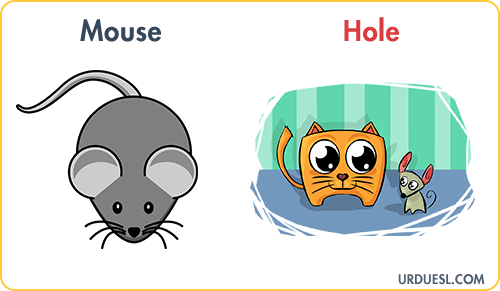 Lion Lives In Den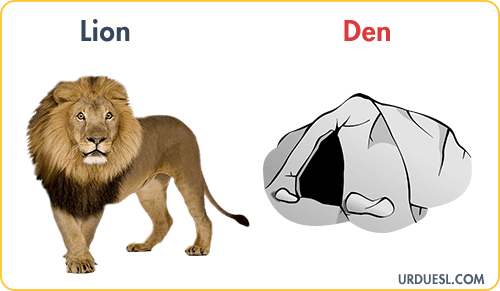 Horse Lives In Stable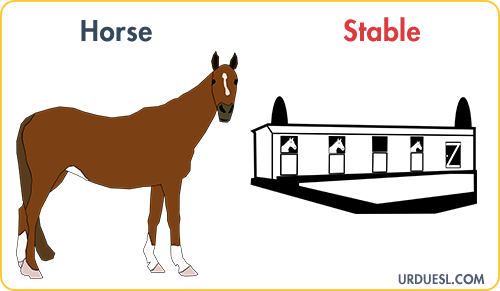 Hen Lives in Coop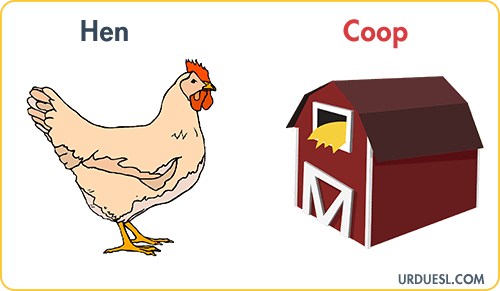 Dove Lives In Dove-cot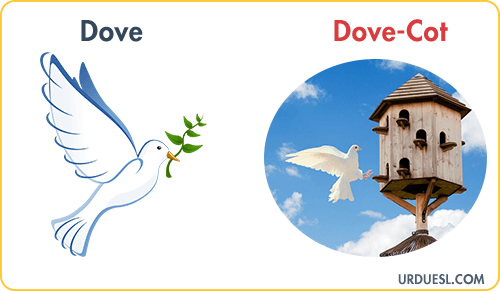 Crocodile Lives In Nest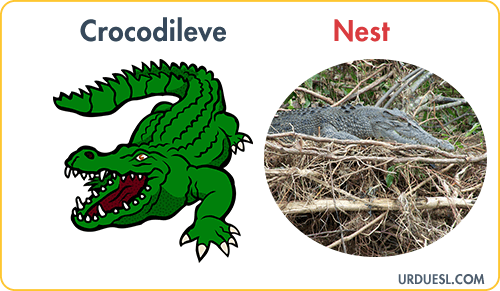 Birds Live In The Cage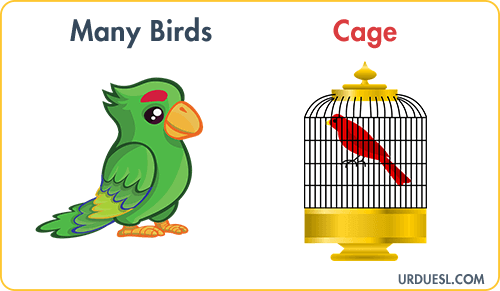 Animal and their Homes Worksheet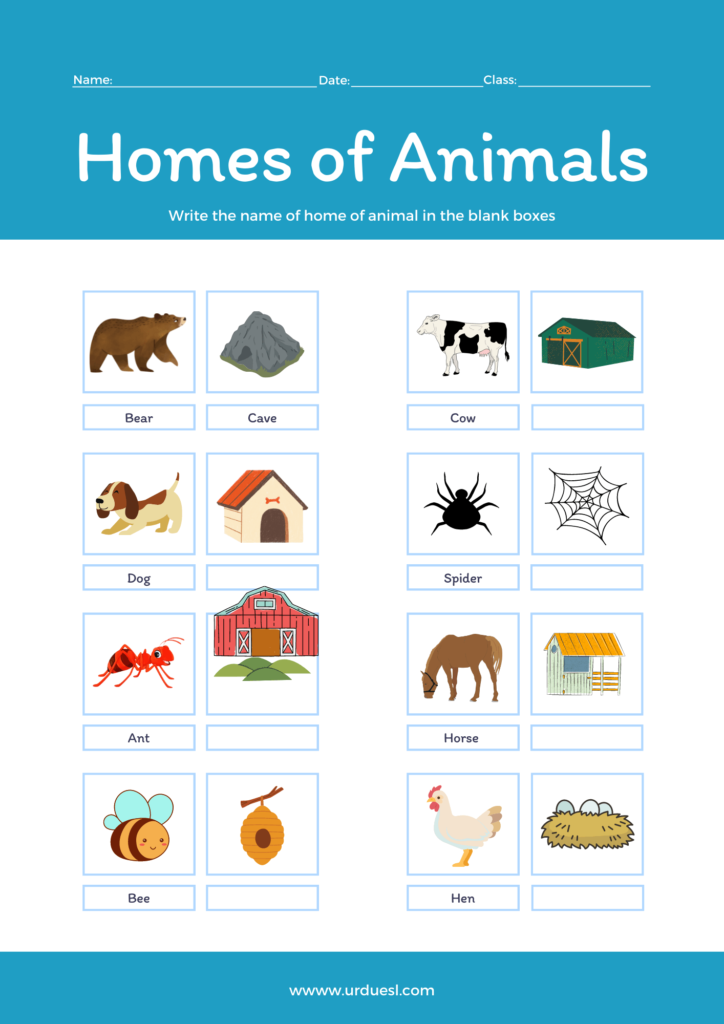 Animals and their Homes PPt
Download List Of Animals And Their Homes Pdf