Are you looking for household items that start with the letter "j"? If so, you're in luck! In this article, we'll be listing all of the common household items that begin with the letter "j". From jigsaw puzzles to Jell-O, these objects are sure to make your preschooler's day!
List of Household Items That Start With Letter J
Jack Hammer
Jacket
Jackknife
Jacuzzi
Jam
Jam Jar
Jammies
Jar
Jar Opener
Jay Cloth
Jeans
Jeep
Jello
Jelly
Jelly Mould
Jerry Can
Jewelry
Jewelry Box
Jigger
Jigsaw Puzzle
Joggers
Journal
Joystick
Jug
Juice
Juice Box
Juicer
Jukebox
Jump Rope
Jumper
Jumper Cable
Jumper Tool
Jumpsuit
Junk
Junk Drawer
Junk Food
Jute Bag
Items that Start with 'J'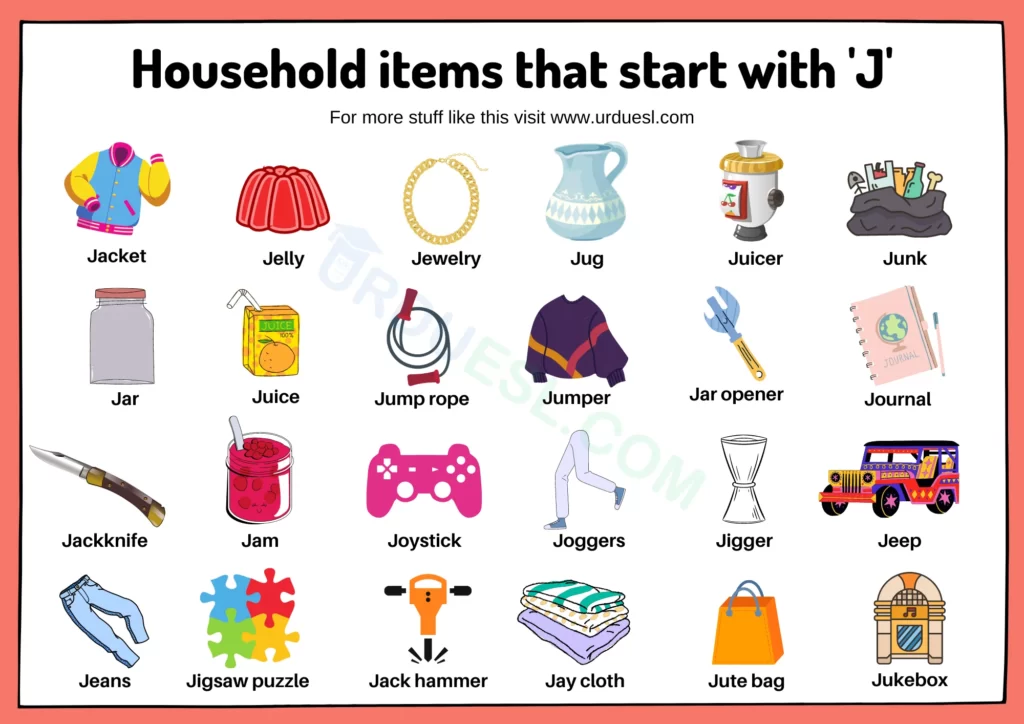 Other J words for Preschool
Jack Russell Terrier
Jackal
Jackfruit
Jackpot
Jaguar
Jail
Jakarta
Jalapeno
Jamaica
Jammer
Janitor
January
Japan
javelin throw
Jaw
Jellyfish
Jester
Jet airplane
Job
Joker
Jordan
Joy
Judge
Juggle
Juggler
juice pops
Jujube
July
Jump
Junction
June
Jungle
juniper berry
Junkyard
Jupiter
Jury
Household Items that Start with 'J' for Preschool (a Worksheet)
Check out our handy worksheet of matching pictures and words! So whether you're looking to learn more about the alphabet or just have some fun, this worksheet is definitely for your toddler! You can download this worksheet with the link given below the image.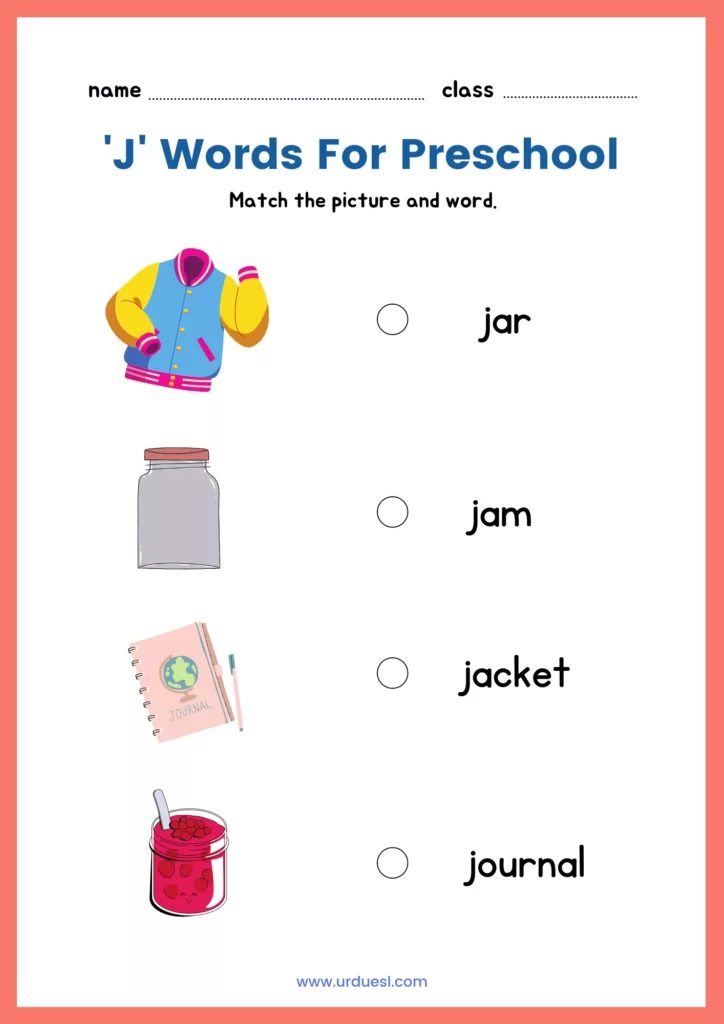 'J' Words for Kindergarten
Well, check out our worksheet of 'J' words for kindergarten!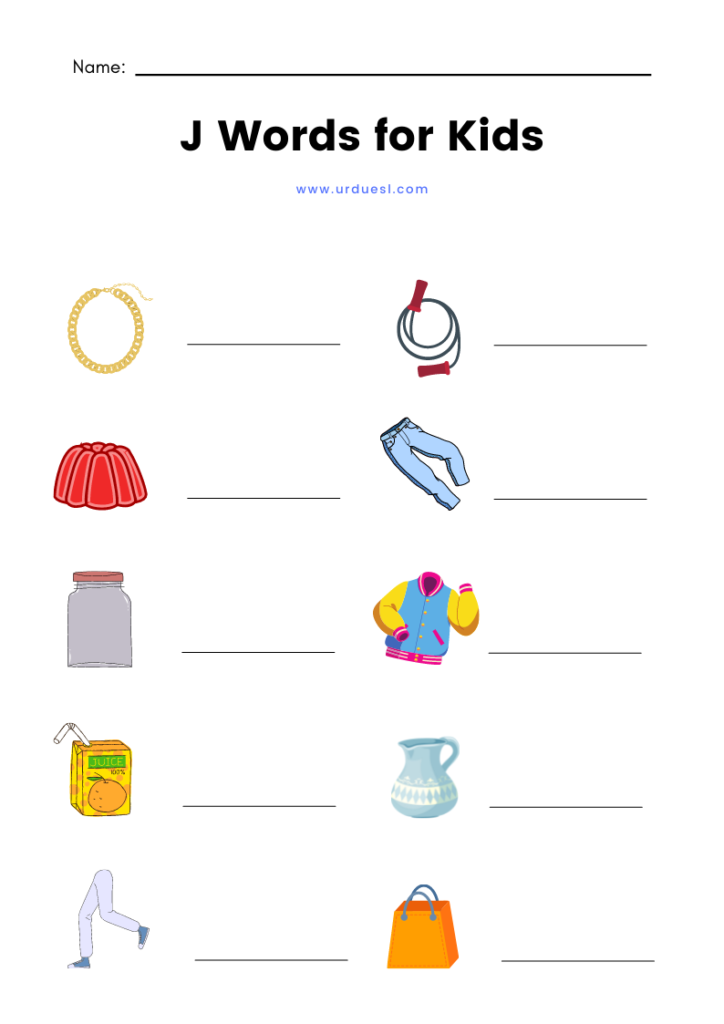 J Words for Kids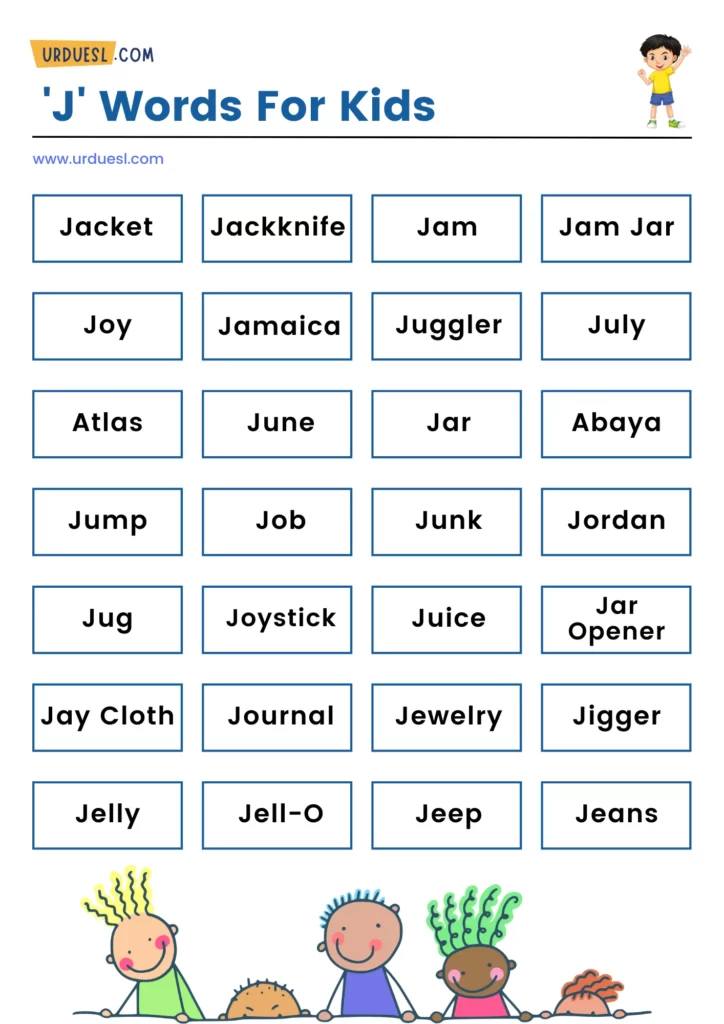 Be sure to check out our list of other household items! As always, if you have any suggestions or feedback, don't hesitate to let us know in the comments.