Animals have always been with us. They are part of our lives and also our most beloved friends. The more you know about animals, the better you can connect with them. So here is a list of different exciting groups of animals names they are called by.
Animal groups are collective noun that refers to a group of similar species of animals.
Animal groups can be classified as a herd, flock, pack, or gaggle. You will be surprised to know some groups' names because they are funny and weird.
Table of Contents
List of Groups of Animals Names with Images
Below you can download these images in pdf.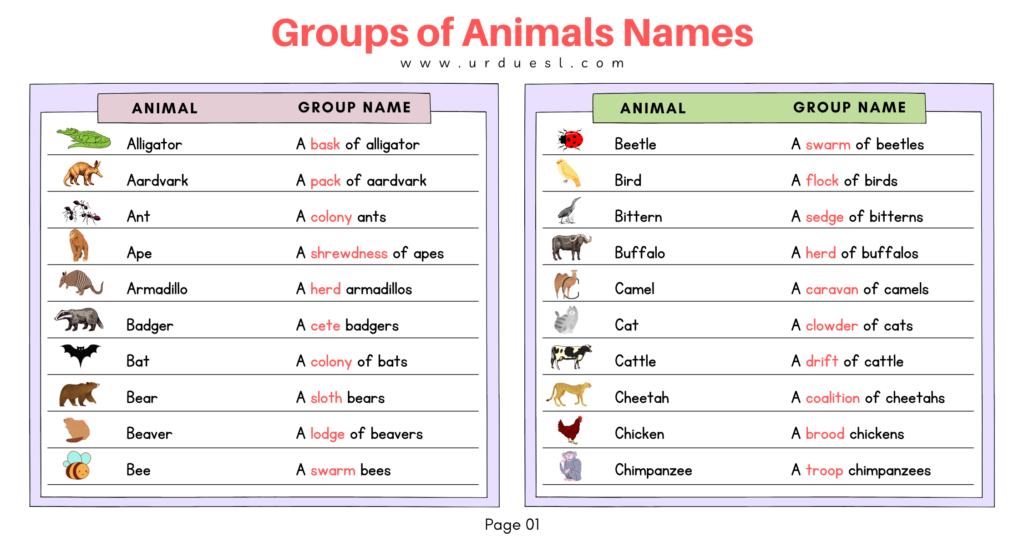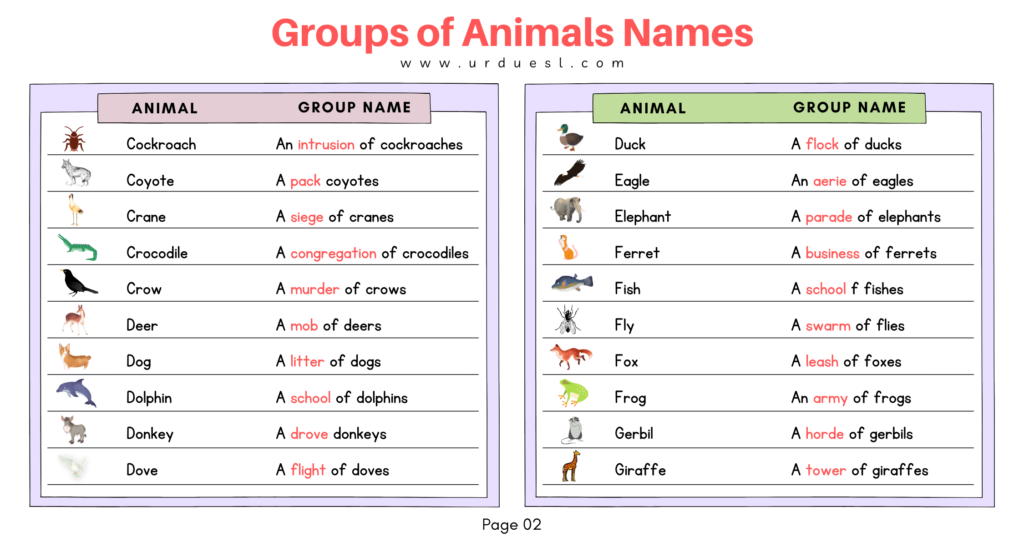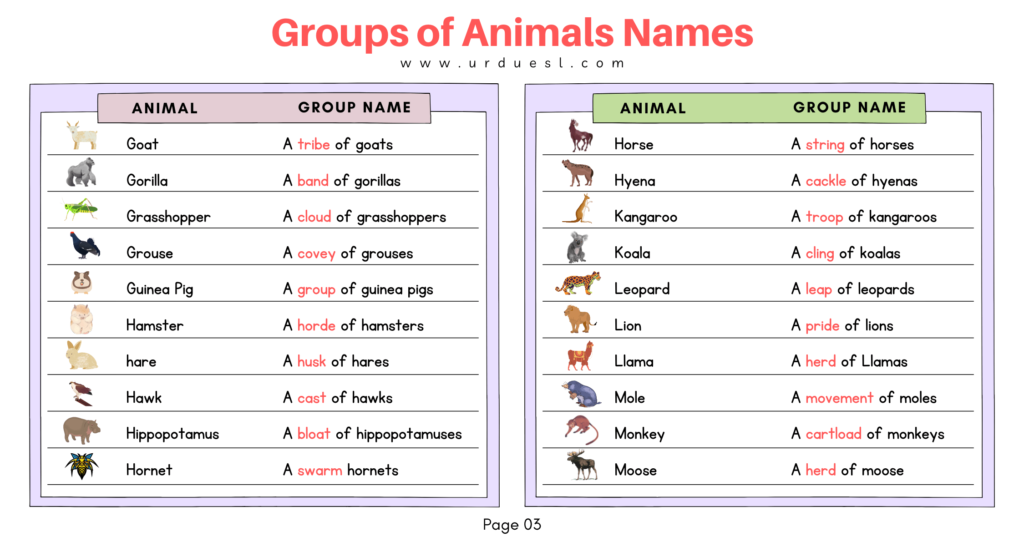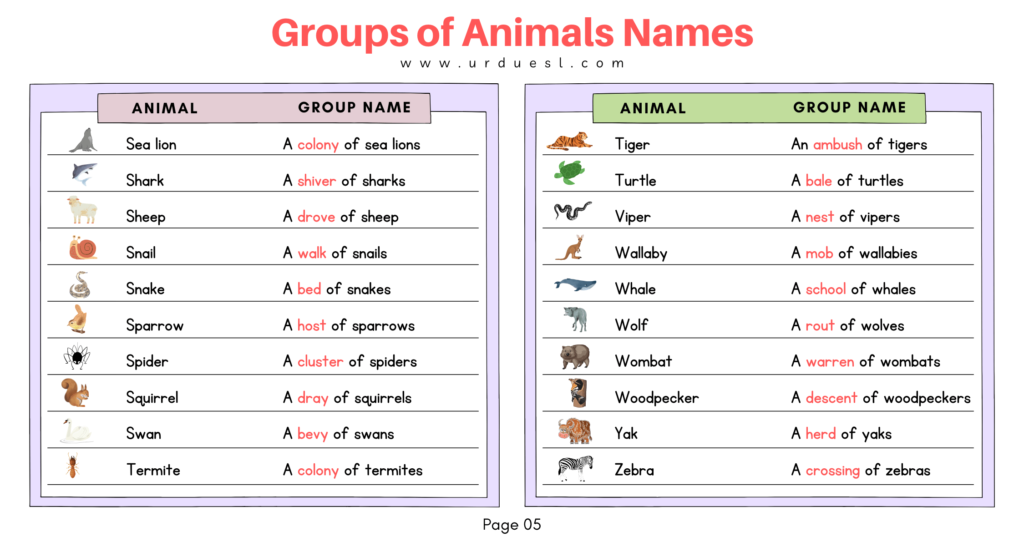 Animal Group Names List
| No: | Animal | Group |
| --- | --- | --- |
| 1 | Alligator | bask, congregation |
| 2 | Aardvark | pack, grouping |
| 3 | Ant | colony |
| 4 | Ape | shrewdness |
| 5 | Armadillo | herd, arrangement, pack |
| 6 | badger | cete |
| 7 | Bat | colony |
| 8 | Bear | sleuth, sloth |
| 9 | Beaver | lodge, colony |
| 10 | Bee | colony, swarm |
| 11 | Beetle | swarm |
| 12 | Bird | flock, |
| 13 | Bittern | sedge, siege |
| 14 | Buffalo | herd |
| 15 | Camel | flock,herd,caravan,train |
| 16 | Cat | clowder, clan, clutter, glaring, kindle |
| 17 | Cattle | herd, drove, drift, mob, flink |
| 18 | Cheetah | coalition |
| 19 | Chicken | flock, brood, clutch , peep |
| 20 | Chimpanzee | troop, group, harem, cartload |
| 21 | Cockroach | intrusion |
| 22 | Coyote | pack, train, rout |
| 23 | Crane | siege, sedge, herd |
| 24 | Crocodile | congregation, bask, nest |
| 25 | Crow | murder, horde |
| 26 | Deer | herd, mob |
| 27 | Dog | pack, litter, kennel, gang, legion |
| 28 | Dolphin | team, school, pod, herd, party |
| 29 | Donkey | drove, herd |
| 30 | Dove | dole, flight, piteousness |
| 31 | Duck | flock, brace, bunch, team |
| 32 | Eagle | aerie, convocation, brood |
| 33 | Elephant | herd, parade, ack |
| 34 | Ferret | business, fastening |
| 35 | Fish | school, shoal, draft, nest |
| 36 | Fly | swarm, business |
| 37 | Fox | leash, skulk, troop |
| 38 | Frog | army, colony, bundle |
| 39 | Gerbil | horde |
| 40 | Giraffe | herd, corps, tower, group |
| 41 | Goat | trip, tribe, flock, herd |
| 42 | Gorilla | band |
| 43 | Grasshopper | swarm, cloud |
| 44 | Grouse | covey, pack |
| 45 | Guinea Pig | group, herd |
| 46 | Hamster | hoard |
| 47 | Hare | down, husk, warren |
| 48 | Hawk | aerie, cast |
| 49 | Hippopotamus | herd, bloat |
| 50 | Hornet | swarm |
| 51 | Horse | herd, string |
| 52 | Hyena | clan, cackle |
| 53 | Kangaroo | mob, troop |
| 54 | Koala | cling |
| 55 | Leopard | leap, prowl |
| 56 | Lion | pride |
| 57 | Llama | herd, flock |
| 58 | Mole | labor, company, movement |
| 59 | Monkey | troop, cartload |
| 60 | Moose | herd |
| 61 | Mouse | hoard, mischief |
| 62 | Nightingale | watch |
| 63 | Ostrich | flock, troop |
| 64 | Otter | romp, bevy, lodge, family, raft |
| 65 | Owl | parliament, stare, wisdom |
| 66 | Panda | embarrassment |
| 67 | Parrot | company, flock |
| 68 | Penguin | parcel, colony, huddles, rookery |
| 69 | Pig | herd, drove, sounder, mob, drift |
| 70 | Pigeon | flock, school |
| 71 | Polar bear | pack |
| 72 | Porcupine | prickle, family |
| 73 | Porpoise | herd, pod, school |
| 74 | Possum | passel |
| 75 | Rabbit | warren, nest, colony |
| 76 | Raccoon | nursery |
| 77 | Rat | horde, mischief |
| 78 | Raven | parliament, unkindness |
| 79 | Rhinoceros | crash |
| 80 | Rook | clamor, building |
| 81 | Sea lion | pod, colony, crash, flock, herd |
| 82 | Shark | school, shiver, slew |
| 83 | Sheep | flock, drove |
| 84 | Snail | escargatoire, rout, walk |
| 85 | Snake | nest, bed, pit |
| 86 | Sparrow | host, flight |
| 87 | Spider | cluster, clutter |
| 88 | Squirrel | dray, scurry |
| 89 | Swan | flock, bevy, wedge, team |
| 90 | Termite | swarm (while flying), colony |
| 91 | Tiger | ambush, streak |
| 92 | Turtle | bale/nest |
| 93 | Viper | nest |
| 94 | Wallaby | mob |
| 95 | Whale | pod, gam, herd, school |
| 96 | Wolf | pack, rout |
| 97 | Wombat | warren, mob |
| 98 | Woodpecker | descent |
| 99 | Yak | herd |
| 100 | Zebra | herd, crossing, dazzle |